When you live in a flat, a Tumble Dryer can be a great addition to your laundry electronics. It helps you get through the washing process faster and be able to concentrate your day on relaxing or with friends as you wait for the beginning of a workweek.
Your washing machine doesn't have an inbuilt dryer and you don't have the time or the space to hang your clothes to dry. To make the matters worse, you have a large family doing laundry every week. If you're looking for a small tumble dryer for yourself living in a flat, you might want to look for the best in the market. It comes in handy by not only drying your clothes but also taking up less space and helping keep your house clean.
Unfortunately, knowing that a Tumble Dryer is what you need for your clothes is not everything, because you need to evaluate the features it comes with to ensure that the dryer offers you what you need for the best performance. In this review, we'll take a look at some of the best small Tumble Dryers on the market for your flat and things to keep in mind in your search for the best small tumble dryer for your home.
Best Small Flats Tumble Dryers – A Comparison table

| Product | Best Small Flats Tumble Dryers | Best for | Check on Amazon |
| --- | --- | --- | --- |
| | ZANUSSI ZWD91683NW Dryer | Best Overall Small Tumble Dryer | |
| | Candy Smart CSC8DF Tumble Dryer | Best Condenser Dryer | |
| | Cookology Mini Tabletop Tumble Dryer | Most Portable Dryer | |
| | Technix TKDV25W Tumble Dryer | Most Compact Dryer | |
| | Indesit Ecotime Idv75 Tumble Dryer | Best Vented Tumble Dryer | |
Reviews of the Best Small Flats Tumble Dryers
ZANUSSI ZWD91683NW Dryer – Best Overall Small Tumble Dryer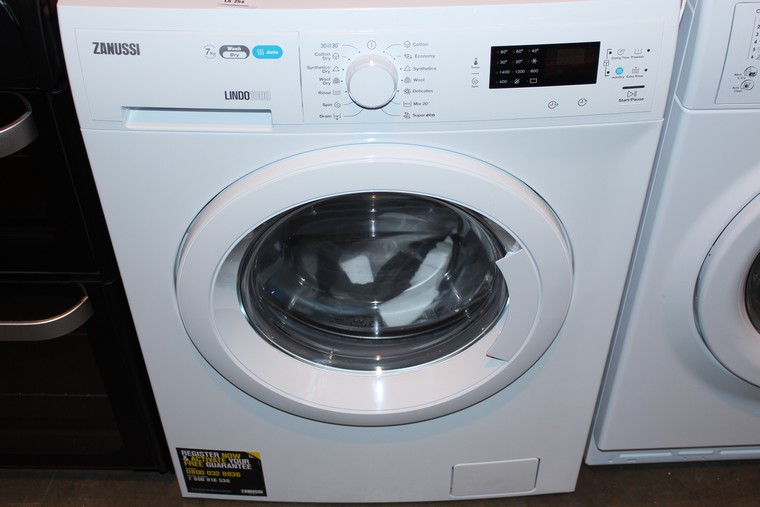 Having an appliance that combines both a washer and dryer is ideal for not only renters but landlords too as it saves on time, space and cost. The ZANUSSI ZWD91683NW Dryer meets all these specifications for your rental home if you live in a flat. The machine has a 9kg washing and a 6kg drying capacity. This freestanding condenser washer and dryer gently washes and dries your clothes using clever sensors that adjust the washing and drying time depending on how wet your clothes are. With an 850 x 600 x 605 mm dimension and 81 kg, you not only get to save on space with this combo washer-dryer but also you get to save on electricity and water bills using its AutoAdjust sensor feature and its A energy rating. This machine is best for households looking to invest in both a washing machine and a small tumble dryer.
Pros
Saves on space
Drying cycle efficiency
Large load capacity
Reliable
Ease of use
Cons
Candy Smart CSC8DF Tumble Dryer – Best Condenser Dryer
The Candy Smart CSC8DF Tumble Dryer is ideal for spatially-challenged flats as you can use them without a need for vents or integrations. They're easy to move, maintain, or move. This freestanding condenser dryer has an 850mm x 596mm x 600 mm dimension and weighs 33kg. Its load capacity is 8kgs and has a B energy rating. Its design is clean and simple and being a condenser dryer, it can fit anywhere without necessarily being next to a window or wall. Its 8kg capacity marks it suitable for any load amounts or cycles to be dried. If you have enough room in your flat that can fit this stand-alone appliance plus your washing machine, then Candy Smart Tumble Dryer would be a great addition to your home.
Pros
Modern design
Huge capacity
Cons
Not ideal for flats with small spaces
Programs are many and might be easy to understand
Cookology Mini Tabletop Tumble Dryer – Most Portable Dryer
When you see this tumble dryer, you'll have to rethink again if thought space was an issue. The Cookology Mini Tabletop Tumble Dryer; a mini tumble dryer was designed for homes like yours. It perfectly fits on your worktop or even better, it can be mounted on your kitchen wall giving you ample space for other things! It has a 530mm x 430 mm x 660mm dimension and weighs 19kg making it so portable and lightweight that caravaners and boat dwellers favor it. It offers you a 2.5kg load capacity and despite its C energy rating, it's still a great dryer if you're constantly on the move. Its versatility and 2.5kg making it ideal for shared houses and small flats or a single person's use. You can use it minimally with a washing line or drying rack as well. If you feel your flat is small and there isn't any more space, then the Cookology Mini Tabletop Tumbler Dryer would prove you otherwise. You can have it sit on top of your drawer chest, worktop, or even mount on your wall to save you surface space.
Pros
Very portable
Highly lightweight
Easy ironing with the anti-wrinkle programs
Cons
Its small capacity limits the number of items that can be dried at ago
Technix TKDV25W Tumble Dryer – Most Compact Dryer
The Technix TKDV25W Tumble Dryer is the most compact tumble dryer considering its 41.5cm x 49 x 58.5cm dimension and 17kgs weight; a size that can be equated to your bedside table. It has a load capacity of 2.5kgs which roughly translates to a load of trousers and socks or 2 hoodies. Its 17kg weight makes it lightweight enough for you to be able to put it away when you're aren't using it or move it around the flat. Its energy rating of C is not good but at the same time, not bad considering you'll be doing just a small load amount which will take less time and the tumble dryer's capacity is small too meaning not a lot of water will be consumed. Most of its settings are easy to understand and configure. If you're living alone in a small flat and don't do much laundry, or you're a student in a hostel or a small flat then this tumble dryer won't disappoint. This machine also comes in handy if you're looking for a supplement for a drying rack or line-drying without having to worry about space.
Pros
Weighs less and its highly portable
Ease of use
Simple
Cycles are quiet
Cons
It needs to be placed near a window to release the steam to the outside when in use
Indesit Ecotime Idv75 Tumble Dryer – Best Vented Tumble Dryer
Indesit Ecotime Idv75 Tumble Dryer is our best-vented tumble dryer for a small flat because it comes with a vent hose and it's versatile and thorough when it comes to drying options. It comes with 12 different programs including synthetics, cotton, acrylics, and refresh for optimizing the drying style for every load making it gentle on your delicate fabric. Indesit Ecotime tumble dryer offers you a 7kg capacity which is enough for a household with 1-2 people. It's 850 x 595 x 584mm dimension together with the 34.5kg weight makes it the best-vented tumble dryer for a small or medium household with a small space in a flat and they need a tumble dryer.
Pros
Simplicity
Ease of use
Vents are made of steel
Simple installation
Faster drying time
So What Should You Look for in a Tumble Dryer for Your Small Flat?
The best tumble dryers for your flat are not only meant to offer you convenience in terms of space but also a quality performance. They should be able to fit in the space allocated to them without much hassle and perform by either condensing or venting the steam. However, not all tumble dryers are made the same, which means that you need to know what to look for in a tumble dryer for it to guide your choice. Below we take a look at what you need to know about tumble dryers and what to look out for when shopping for the best small tumble dryer for your flat.
Condenser vs Vented vs Heat pump
Tumble dryers come in three different types: vented, condensers, and heat pumps. Vented tumble dryers are the most common tumble dryers in the market. With vented dryers, you'll need to place them next to a window or exterior wall because they get rid of water from the dryer using a hose connected to the dryer that then vents the water outside of your house. They're however mostly budget-friendly.
Condenser tumble dryers on the other hand remove water using a container usually referred to as a reservoir found inside the dryer. You'll have to manually empty this container when it gets full. On modern tumble dryers, you'll get an alert when the container is filled up. Despite this, the advantage this tumble dryer has over the vented ones is that you can place it anywhere in the house without having to worry about discharging the water to the outside especially in a flat where you may lack the luxury of space and where to position it.
Heat-pump tumble dryers are more efficient in terms of energy than the rest of the tumble dryers as they use clever technology to dry your clothes. They also make use of condensers to extract water out of the load, the water then evaporates in a tank due to the hot air. This makes them very expensive to buy.
Noise
You have to be cautious in terms of noise produced if you live in shared accommodations like flats. You don't want your tumble dryer producing a loud banging and rattling noise when in need of some clothes drying up which can be annoying to your neighbors. When looking for a tumble dryer for your home, the ideal noise level should be less than 65dB. Some tumble dryers have an anti-vibration feature and thick insulation which reduces the tumble dryer's noise.
Weight and dimension
Before getting yourself a tumble dryer, think about where you'll place the machine. Is the space enough to place or move it around? What type of tumble dryer are you getting, does it need to be close to a window? Is the space next to the window enough? Flats are notoriously limited in space. Freestanding tumble dryers usually come with a width and depth of 60 cm and a height of 85cm enough to fit under your kitchen worktop. Some tumble dryers are so lightweight and portable that they can be mounted on the wall and save you surface space. In terms of weight, if you need to move around, the weight can be a concern if say the flat or building lacks a lift.
Sensor technology
Since tumble dryers tend to use a lot of water and heat, therefore being seen as energy inefficient. In an attempt to fix this, manufacturers installed sensors to help monitor the moisture level in the drum throughout a cycle and stop when the laundry is dry. This saves on costs by preventing any unnecessary running of the tumble dryer. Despite its expensiveness, this technology goes a long way to save you time and money.
Drum size
The larger the tumble dryer, the more efficient it is in terms of energy. You also get to do your laundry once instead of putting loads in shifts.
Programming
Tumble dryers are easy to use and come in two major types: manual and sensor tumble dryers. Manual dryers mostly have at least 2 to 3 settings while sensor ones tend to have more programs that give you a wider array of settings to choose from. With manual tumble dryers, you have to program them yourself and the load drying process might take longer. Despite them being cheaper than sensor dryers, they can cost you more or even worse damage your clothes. Some of the settings include synthetics, cotton, and delicates. Other settings you may find are mixed, wool and shoes for tumble dryers with a shoe rack.
Washer-dryers
The cost that accompanies buying two different machines to do the work of one is can be strenuous especially for someone living in a flat without the luxury of space for both a washing machine and a tumble dryer. Investing in a washer-dryer can sound like a prudent and logical investment. The washer plays the normal role of a standard washing machine and the dryer part does the job of a tumble dryer. The 2-in-1 design ensures efficiency and saving of space in your home by combining the two machines. However, despite these benefits, you'll need to consider the capacity as you may be able to wash a 10kg load but only dry a 4kg load on the same machine.
Energy efficiency
Tumble dryers like other machines come with power ratings ranging from A to G with the most economical rating being the A+++. The cost of running a tumble dryer depends on the time it takes for your tumble dryer to dry clothes and how hard it is for it to perform the task. For example, your washing machine having a higher spin translates to your tumble dryer working less.
FAQs
How often do I need to empty my condenser tumble dryer?
It depends. However, on most occasions, you may need to empty it after 2-3 loads.
Do I need plumbing for my condenser tumble dryer?
You don't need any water supply on any tumble dryer. As for a condenser tumble dryer, you don't need plumbing as they collect the moisture from your laundry in a container on the machine that needs manual emptying.
Conclusion
The market has several amazing small tumble dryers to pick from and getting the perfect one might not be easy considering you live in a flat and have limited space. The tumble dryers viewed above are some of the best in the market and they meet your needs.